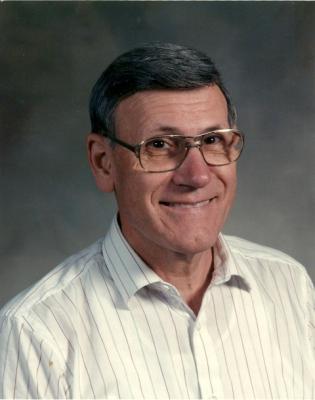 John Garland Thayer, age 85, died Monday, March 30, 2015 at the Johnson City Medical Center. A resident of Gray, Tennessee since 2012, he was a well-known educator, and United Methodist Pastor. He served Washington College Academy as Dean from 1968-1982, and thereafter worked as administrator or teacher in the public schools of Washington County Tennessee: Fall Branch, 1982-83; Jonesborough Middle School, 1983-85; Gray Elementary, 1985-91; and West View, 1991-94. Mr. Thayer retired from teaching in 1994. From 1987 until 1997, he served the United Methodist Church as Pastor at Liberty Hill and Milburnton in Greene County (7 years) and Vincent United Methodist Church in Washington County (3 years). In 1998 he became Visitation Minister at First United Methodist Church in Johnson City, a position he held until his death.
Prior to moving to Tennessee in 1968, Mr. Thayer was principal of Hayter's Gap School near Saltville, Virginia, and from 1956-59, was pastor of the Rich Valley United Methodist Church that resulted, under his leadership, from the merger of Bethany, Glenford, Lowland, and Wesley Chapel Methodist Churches north of Abingdon.
Mr. Thayer was also the co-founder and the executive director of the Progressive Community Club (now People Inc.), the first rural community action agency east of the Mississippi authorized to expend Federal Funds under the provisions of the Economic Opportunity Act of 1964. For this work he was nominated for the Lane Bryant Community Service Award in 1967.
Mr. Thayer was a graduate of Berea College, East Tennessee State University Graduate School of Education, and Boston University School of Theology. He also did studies in Community Development at Temple University, and held a Doctor of Divinity Degree from American Holistic Institute.
He is the author of a Thayer Family History, a pamphlet "101 Questions and Answers about the Constitution" published as a Bicentennial project in 1976, and a book of inspirational poems and stories-Moments of Mystery and Wonder-published in 2010 by Vantage Press, NY.
A member of Tau Kappa Alpha Honor Society, a long-time Ruritan member, and a former Kiwanian, he held many positions and achieved various honors. He was active in community development and in work with youth at Mowglis Summer Camp for boys in New Hampshire. (1952-1955 and 1960-1962), in 4-H Club, soil conservation, and Boy Scouts. He was listed in Virginia Lives (1964); Community Leaders of America (1968); the 1776-1976 Bicentennial History of Washington County Virginia (1977), Families of Washington County and Bristol, Virginia, 1776-1976 (1996), and in the Holston United Methodist Conference Journal (1956-1959) and (1987 to the present).
Mr. Thayer lived with his wife, Jean Curtis Thayer, in the West View Community of Washington County from 1968 until moving to the Gray Community in 2012.
He was a son of the late Thomas Clifton Thayer and Lola Broyles Thayer of Abingdon, Virginia. He was preceded in death by his parents, and four siblings, Hazel, Edward, James, and William. Survivors include his wife, Jean, twin sons Travis and Trygve Thayer and their wives respectively, Penny Ritter Thayer of Johnson City and Tracy Reynolds Thayer of Lexington, South Carolina; a daughter Laura Thayer Evans and her husband Mike Evans of Johnson City, Tennessee and son, David Garland Thayer and his wife Valerie Going Thayer of Knoxville, Tennessee. He is also survived by seven grandchildren: Austin and Lindsay Thayer, Jennifer and Michael Thayer, David Evans and Braden and Brooke Thayer. Other family survivors include a sister Ellaree of Abingdon, Virginia, a brother Donald and his wife Eleanor of Abingdon, a brother David Kyle of Hopewell, Virginia and numerous nieces and nephews.
Funeral services will be conducted 7:00 pm Friday, April 3, 2015 at the First United Methodist Church of Johnson City with Rev. Jane Taylor, Dr. Angus Shaw and Bishop Richard Looney officiating. The family will receive friends from 4:00-7:00 pm Friday prior to the service.
Interment services will be conducted 11:00 am Saturday, April 4, 2015 at Knollkreg Memorial Park in Abingdon, Virginia.
Pallbearers will be Jimmy Thayer, Jamerson Thayer, Mark Orfield, Dwane Orfield, Robert Purvis, Calvin Purvis, Kevin Thayer and Donne Faulkner.
04/25/2015
Becky Wood McConkey
My 96 year old uncle called me today (Bill Wood) and told me of Garland's passing. Garland officiated my mother's (Connie Seaver Wood) funeral in 2012 and he was always such a blessing to her. He helped make her service a true life celebration by repeating jokes my mom told and funny things she said. I am truly sad to hear of his passing but he was a Godly man who brought comfort and joy to many and I know his service was also a life celebration and he has now joined many friends who passed before. I actually have his book, too. Sending prayers and Blessings to his family.
04/20/2015
David S Thayer
I only met John once; during a Thayer Family reunion in Abington a while ago. Very impressed with his demeanor and obvious love of family.
04/18/2015
Tim and Peggy Wright
We were so sorry to hear of the passing of Mr. Thayer. He was a great influence on both of us as a teacher and school administrator. We pray God's great comfort will be with all his family through the weeks and months ahead... He will be missed.
My prayers are with his family!
04/03/2015
Sonya Ridinger
David, So sorry to hear about the loss of your dad. You and your family are in my prayers.
I have a lot of great memories from WCA back in the 70's. To many of us they seem like the good ole days as we grow older. I never got a paddeling from Mr Thayer that I didnt deserve :) He had a stern way about him and he kept us in line and tried teaching us right from wrong. I remeber one time in piticular (no spell checker)(Sorry Mr Campbell, I never did catch on to that spelling thing very well) when a young girl and her parents were on campus for there first visit and Dale Day and I were having a snow ball fight outside the add building, Whoow we got a paddeling that day to remember lol. He and I had many conversations throughout my years at WCA and I always thought a lot of him and greatly respected him. My thoughts and prayers are with his family.
04/03/2015
Rose Ellen Thomas
My condolences to The Thayer Family. Mr. Thayer was a very unique and special person. He made you smile and hope for all good things. We will miss him tremendously. Sent from my iPhone
04/03/2015
Kathleen & Calvin Garland; Donna & Steve Robbins
Jean and family: We hope you know how much Garland meant to all of us. Not only was he a faithful minister who was always there to call on us and pray with us during times of illness; but he was also a wonderful and dear friend. Our lives with the church were strengthened because of his ministry and because of our relationship with both of you. Please know that we keep you all in our thoughts and prayers. Love, Kathleen & Calvin; Donna & Steve
04/03/2015
stella coffey turnmire
dear thayer family thank u for share your dad with us. i am sorry for your loss.may god be with all of u guy during this time. love to all of u. jonathan and i be thinking about u. call me at 741-6236 if u need an ear.
04/03/2015
Marion & Karen Bailey
Jean, that "good-looking man" of yours will be missed. In reading his bio he certainly has touched a lot of lives. The members of the Limestone Ruritan Club are indebted to him.
Garland was always so nice to our family and my Mother Pauline Oliver (Lola's Sister) always talked about how proud she was of Garland. I am sure there is a wonderful family reunion going on in Heaven now. Lots of preaching and singing. My life was much better knowing that Garland was part of me growing up.
Our deepest sympathy to you in your loss. Garland was such a special person as a father and friend. May these memories comfort you during this time of grief.
Just to let you know you are on my mind and in my heart. May God bless you during this difficult time.Love you!
04/02/2015
Alan and Debbie Riggs
Travis and Penny, You are in our hearts and prayers at this time. We know how hard it is to let our parents go, but can look forward to seeing them again. Praying for you and love you, Alan and Debbie Riggs
04/02/2015
Karen Thornton Barnette
I think back to the great times I spent with all of you! Dena and I are keeping you in our thoughts and prayers.
What a great husband, father, grandfather and minister of God's word! Let his wisdom fill your hearts with love. You have so many good memories to keep in your heart.
04/02/2015
Mark & Jeanie Pollock
Dear Jean, We are thinking of you and share a small part of your great loss. Although we only got to know you and Garland over the last couple of years, it was always wonderful to see you. We are praying for you.
04/02/2015
Thomas B. Hager, Jr.
Garland was always one of the Hager family's favorites. He looked after mom and pop for many years and they always looked forward to his weekly visits. They certainly enjoyed the time they got to spend with him. He did a wonderful job at each of their funerals. There are not many men around anymore like Garland. He will certainly be missed by many folks. Thanks to him for everything he did for the Hager family. The Thayer family has our deepest sympathy for your loss. You are in our thoughts and prayers during this difficult time. Sincerely, Tom Hager and family
Our loss is truly heaven's gain! We are praying for you in these days. Ambers and Marshall Wilson
I was privileged enough to meet Garland and Jean in August 2014. Although I only knew him a short time, tears came to my eyes when I was informed of his passing. His memory will carry on for many generations. Thank you for everything, Garland. Your life touched so many others. What a great loss this Earth has had. His family is in my thoughts.
04/02/2015
bill & carolyn saylor
We are so sorry to hear of Mr Thayers passing. I cant put into this small space what he meant to us. A wonderful man has entered heavens gate. Our love to you and all of your family.
Hi Laura, Just wanted you to know that you are in my thoughts and prayers. It sounds like you were blessed with a very special father and I am glad that he did not have a long time of suffering. Love, Carol
Jean and family- Garland was such a devoted servant of God, husband, father and friend to many.He was a blessing to our group of retired ministers in the Johnson City District. Our prayers are with you in this time of loss and transition.
04/02/2015
April Thayer Atkins
My deepest sympathies to each of you. I thought the world of Uncoe Garland. He was such a special person and I loved visiting and talking with him. He will be deeply missed.
04/02/2015
Angie crawford
He was a very good person. Big loving heart. Your family will be in my prayers.